Whether you have a need for speed or are seeking peaceful, quiet solitude, you'll find just what you want on Lac Pelletier.  Relax and soak up the sun or go for a dip as you cruise the lake.   Lac Pelletier offers a wide variety of activities for those who love to be out on the water.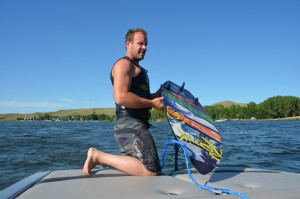 The picturesque lake is great for all types of boating. There's plenty of open space on the water for waterskiing, surfing, wake boarding and tubing.  You can explor
e the shore line by canoe, kayak or pontoon boat and catch a glimpse of many of the birds and wildlife that make Lac Pelletier
their summer home.  Or catch a prairie breeze in your sails – Lac Pelletier is a great sailing location for beginners and experts alike!
If you're looking to take to the water, make sure you're equipped with your Pleasure Craft Operator Card, commonly referred to as a Saskatchewan boating license, to ensure you have the knowledge you need to boat safely.