The Lac Pelletier Social Committee provides tent rental within the park only.
The tent works fabulous for weddings and family reunions.
We have one tent that has 7 ft side walls and is 20 ft at the peaks that can be made into 3 different sizes.
40ft x 60ft- $2400.00
40ft x 80ft – $2600.00
40ft x 100 ft – $2800.00
The tent has 1/2 solid white side walls and 1/2 cathedral windows that can be installed or taken down easily.
Included in the cost of the tent rental is:
21 rectangular 30″ x 96″ tables with white plastic tops
18 round 60″tables with white plastic tops
230 brown plastic folding chairs
6 forty eight foot light strings and lamps
The renter is responsible for setting up and taking down the tables, chairs and lighting.
An 8 man renter supplied crew is required to setup and take down the tent. The Committee will send a rep to oversee and instruct on the setup and take down. We also supply a gas powered stake drive to drive in the stakes.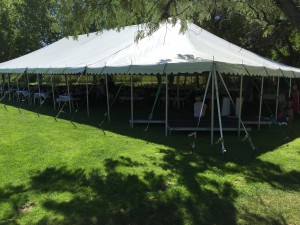 The committee also has a walk-in cooler for rent for $300.00 per day. The cooler is approx 5ft x 6ft and is great for liquor and food. It has 3 shelves along the one end. 120V power is required and this cooler cannot leave the park.
The Committee also suggest that you rent portable toilets.  Contact Henderson Toilet Rentals, 306-741-6446.  They're clean and prompt.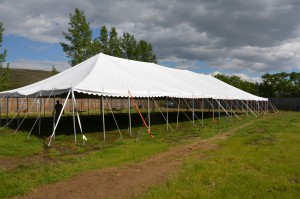 You must make arrangements with the Park Office to set the tent up in the Corral or other park property. Call 306-627-3595
If you want to set the tent up on the golf course, golf course approval is required. Call 306-627-3419
When renting the tent in conjunction with hall rental, you must rent the hall separately from the clubhouse. Call 306-627-3419
A $1000.00 booking and damage deposit required for the tent rental.
Full payment must be received one week prior to the event. Damage deposit will be refunded to the renter after the tent is inspected and is taken down.
Thanks for your interest and please contact us if you have any further questions.
Please call or text Candace Sewell for more info or bookings
Cell 306-315-3744
Email social@lacpelletierregionalpark.ca