July 30, 2022
We are making memories at Lac Pelletier Regional Park in 2022!!  July 30th, 2022 will be an action-packed day and fun for the whole family.   Join us in our attempt at the "Longest Line of Inflatables" (unassisted).  The record to beat is 215.10 meters – we are aiming for 300 meters.
So, we want you and your floaty!!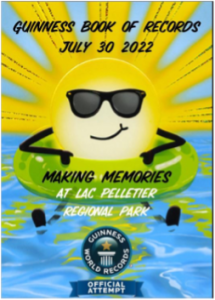 3 ways to register:  SOLD OUT
1. Confidential/Safe Online registration   Click Here
2. Stop by the office to pick up your registration package
3. Email us at guinness@lacpelletierregionalpark.ca for a form
Your registration of $15 includes your chance at making history, swag bag, BBQ and beach party.   Early bird registration starts today with early bird prize being drawn March 1st.
Some musts for you to register:
You must be 12yrs of age to participate in the attempt at the record.
Bring your own personal inflatable (compressor stations will be set up at entry points)

Personal inflatable should be one to two person in size as you will be required to hold on to the inflatable on either side of you, so you don't want it to much bigger than your wing span
Schedule of events
10am – Check In
10:30am – participants start entering the water, volunteer support
11:00am – all participants in the water
11:05am – confirm start
11:10am – removal of stabilizer line
11:15am – drone video will commence, surveyor measures
11:45am – all participants out of the water
12:00pm – BBQ lunch at ONA's beach (sponsored by the Lac Pelletier Golf Committee)
1:00pm-5:00pm
Beach Party (sponsored by Lac Pelletier Social Committee (LPSC)
Music by Half Peeled Beats
Inflatable Waterslide and Obstacle Course
Sandcastle Contest
Tattoo/Face Painting Booth
Photo Booth
Working together we know our goals are achievable – southwest Saskatchewan knows how to succeed!